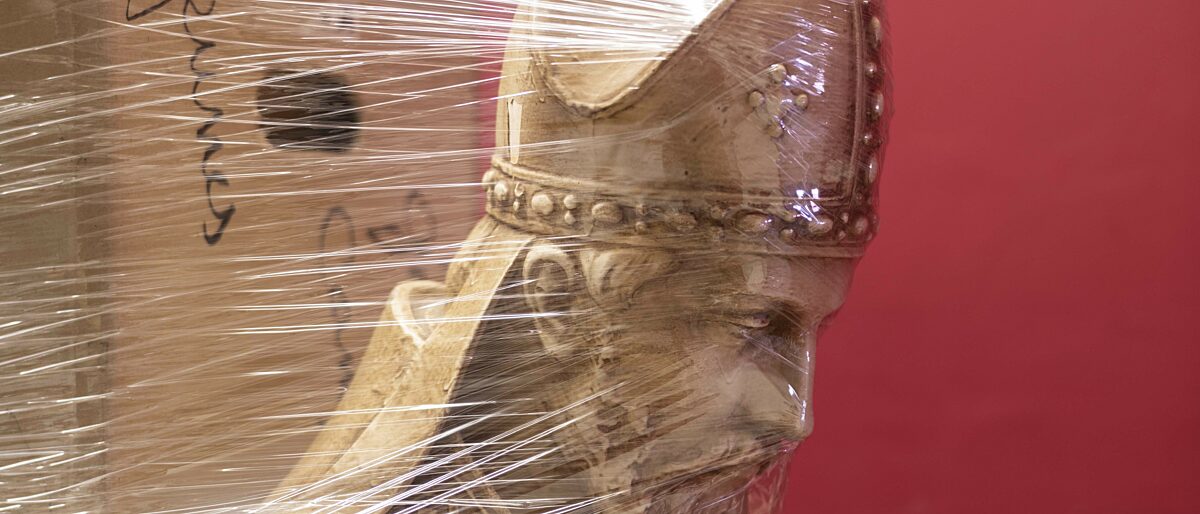 Depot churches in Flanders
Want to set up a heritage depot in a church? This study maps out the challenges and opportunities.
A sustainable future for religious heritage?
The religious heritage landscape is in flux. In the near future a third of Flanders' parish churches will be given an ancillary use or be completely repurposed. What will happen to the contents of those churches? A heritage inventory provides an overview of the size and content of their heritage collections. A well-considered evaluation trajectory then helps church boards to draw up a zoning plan that indicates the (preferred) new home for each item. Some items will continue to be used by the local faith community; others will end up in a museum or find a new home with other religious institutions via Supply & Demand. Nevertheless, there is still a great need for top-notch depot spaces for the storage of the remaining items.

A parish church as a depot?
This study wants to determine whether parish churches might be suitable heritage depots. Over the coming year, a steering group of experts on depot policy and operation will consider questions, such as:

Are church buildings a suitable depot space?
What types of heritage depots (or 'depot profiles') are feasible?
Which heritage item categories are suitable for storage in a depot church?
What are the minimum building and climate control requirements?
Under which budgets does this fall?
Who will operate the depot?
A practical tool to meet various needs
We are working towards a general operational framework, a practical tool that will help not only municipalities and church councils, but also intermunicipal partnerships (immovable heritage departments and heritage cells) to develop a depot plan tailored to local or regional needs.
We are collaborating with five local working groups. In the initial phase, we assess whether a candidate church building is suited to becoming a depot church. We then examine what provisions have to be made to ensure its sustainable operation as a top-notch depot.
One pilot project per province is involved in the research:
Bruges, Sint-Andries, Sint-Andries-en-Sint-Annakerk
Zwalm, Sint-Maria-Latem, Onze-Lieve-Vrouw van Zeven Smartenkerk
Bornem, Branst, Sint-Vincentius à Paolokerk
Sint-Pieters-Leeuw, Sint-Laureins-Berchem, Sint-Laurentiuskerk
Borgloon, Bommershoven, Sint-Alfonskerk
Interaction between the steering committee and the local working groups makes it possible to harmonise depot policy with the implementation of the conditions necessary for proper management and preservation.
Not a dead, closed off space
Both movable and immovable religious heritage have a powerful inherent ability to connect and to interconnect. Using a depot church to house heritage collections offers multiple opportunities to capitalise on this. We are committed to exploring ways of keeping the heritage dialogue alive within the community. That is why we look for ways to link heritage depots with community building initiatives.

We are realising this project with the support of the Department of Culture, Youth and Media of the Flemish government.