Museum & centre of expertise
PARCUM is a Flemish Government recognised museum and centre of expertise for religious art and culture. At PARCUM we believe that religious heritage can be a source of inspiration and an invitation to dialogue, for everyone.
Museum
PARCUM presents temporary thematic exhibitions at the confluence of religion, art and culture. These are usually based on the otherwise often unseen heritage of our churches, abbeys and monasteries.
Heritage advice
Besides being a museum, PARCUM is also a centre of expertise for the religious heritage of Flanders and Brussels. Our regional advisors are happy to help you with all your heritage-related questions
Collection
PARCUM conserves and provides access to its own diverse collection of cultural items and works of art that bear witness to the rich religious culture of Flanders over the past fifteen centuries.
Join us on a journey along religious routes, meet holy companions and visit places of pilgrimage. This thematic exhibition sheds light on various aspects of being 'on the road' in religion.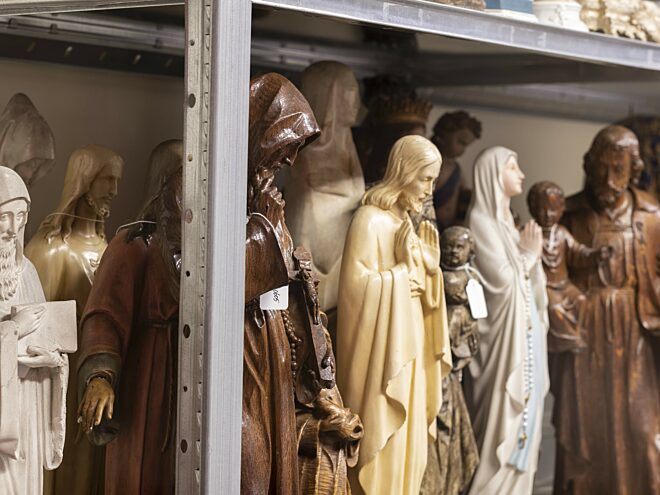 Depot churches in Flanders
Want to set up a heritage depot in a church? This study maps out the challenges and opportunities.
Museum
Kom op zondag 22 mei je favoriete transportmiddel zegenen, zodat je met een gerust hart weer op weg kan. Alle niet-gemotoriseerde rijtuigen zijn meer dan welkom: fietsen, steps, skateboards, eenwielers, rollerskates, wandelschoenen en ander klein rollend materieel.
Museum
Maak op zondag 22 mei op een sportieve manier kennis met de verschillende levensbeschouwingen in Leuven. Al wandelend of fietsend verken je verschillende gebedshuizen en kan je in gesprek gaan met de gemeenschap.
Museum
Bezoek de expo 'Blik op oneindig en de pas gerestaureerde ruimtes van Abdij van Park op een unieke manier. Elke laatste donderdag van de maand kan je de abdij na de uren betreden.
Why we do what we do
At PARCUM we believe that religious heritage can be a source of inspiration and an invitation to dialogue, for everyone. Our first concern is therefore to bring out and highlight every aspect of that religious heritage. Together with all those involved, we search for innovative, broad-based solutions.
We believe religious heritage is relevant to everyone because:
Religious heritage is inherently current; it's a part of who we are.

Religious heritage has many layers; understanding them adds meaning.
With care and creativity, religious heritage can be brought to life and made relevant to new generations.

Working around religious heritage interlinks people and groups.